Maine-Anjou breed (Rouge des Prés)
Origins
The
Maine-Anjou cattle
hails from the historical province of "Anjou" (Pais de la Loire) in France, situated along the lower Loire, South-West of Paris. Its capital Angers is located between the world-renowned Le Mans (known for motorsports) and the city Nantes, situated by the mouth of the river Loire into the Atlantic Ocean.
In this climatically favored region lie the breeding origins of the Maine-Anjou breed, also called "Rouge des Prés" (red pastures).
In Germany, Maine-Anjou farms can mainly be found in the spa town of Bad Wünneberg in North Rhine-Westphalia and at the heart of the Viking territory in Schleswig-Holstein in Busdorf.
Breeding Traits
Color
Maine-Anjou cattle are red with white markings on head, stomach, hind legs and tail. The ends of the extremities are white. A red head with a heart-shaped blaze is preferred. The color "roan" (with white interspersals) is possible.
Body Structure
Maine-Anjou cattle should be medium to large-framed with strong-muscled front and hind legs. It has full shoulders and a correct pelvis, as well as a firm, long and wide back with a firm topline.
Correct gaits with a medium-strong foundation, medium-sized, pale horns that are bent forward (if not dehorned), as well as well-functioning udders for suckler cow husbandry are the breeding characteristics of the Maine-Anjou cattle.
A calm and docile disposition, calving ease with high birth weights, good maternal attributes with high milk capacity, as well as excellent growth (fast attainment of breeding objective).
The following key data of the Maine-Anjou cattle are impressive and reveal very positive breeding characteristics.
| | |
| --- | --- |
| Sacrum height cows: | approx. 146 cm |
| Weight cows: | approx. 800 kg |
| Sacrum height bulls: | approx. 156 cm |
| Weight bulls: | approx. 1.250 kg |
| Birth weight: | 48 – 54 kg |
| Daily weight gain: | 1.000 to 1.200 g |
| Fecundity age: | 28 – 32 month |
| Time between calving: | 376 – 384 days |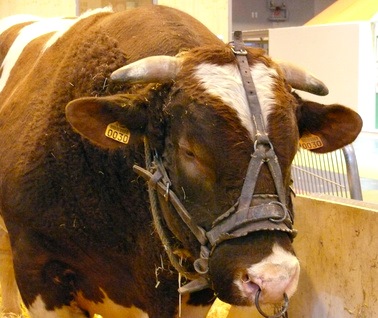 Breeding
Goals of Maine-Anjou Breeding
The markings described in the breeding traits are to be adhered to. A distinct pigmentation of the visible mucous membranes, black or gray spots are to be graded with 4 during the exterior evaluation.
The desirable body structure as described in the breeding traits is to be considered during the exterior evaluation. The evaluation of the body structure is the same for horned, dehorned, and genetically hornless animals.
Maine-Anjou cows should demonstrate a good rearing performance with the following attributes:
calves born alive regularly
good milk yield
good maternal qualities