Raport 6. Maine-Anjou Members' Assemblies 2017
The members of the Maine-Anjou association Germany and other interested parties met under clear skies in Stadland near Nordenham. Here, part time farmer Heiner Reiners rears suckler cows for the production of calves. The estate with its lush pastures is home to 40 cows and female remounts, as well as two breeding bulls.
During the tour of his estate, Mr. Reiners showed his visitors a very impressive herd of Maine-Anjou cattle. The cows were good in size and of a calm disposition. The spring calves that were still with their mothers appeared lively (picture 1). The abundant milk of the mother cows excellent superb conditions for the growth of the calves until they reached the weaning age.
The general assembly took place in the evening.
Subsequently, James McIntyre of Dairymac, who had travelled to Stadland from England specifically for this event, presented the rutting detector Estrotect. He explained the areas of application, such as rutting detection and gestation diagnostics, as well as the exact application of the adhesive strip, as it presents a possibility for errors. It was made clear that small damages to the protective layer (picture two, top) should not be seen as a positive signal (ready for insemination or inseminated). Only when the rutting detector shows its colour clearly (Picture 2, bottom) can this be interpreted as a clear signal. The audience listened carefully and received sample packs of the rutting detector after the presentation. We can assume that the Maine-Anjou of some testers will be equipped with the Estrotect in future.
Further, Reimund Lesen reported on his experience with the Moocall calving sensor. He began using the sensor a little while ago and has come to the conclusion that the sensor was a worthwhile investment despite its comparatively high costs. Particularly with cows calving for the first time, he felt that he could sleep more easily.
Another important point on the agenda was as always the presentation of the French breeding bulls, particularly the new additions, through Alain Arial on behalf of the French association. Antoine Hild translated competently and no questions were left unanswered. After this very informative part of the assembly, the evening ended with informal socialising and networking with discussions and pictures of the individual stables.
The next general assembly of the Maine-Anjou association Germany will be held on June 16, 2018 at the estate of Dr. Marcus Halft. Members of the association, as well as other interested parties are very welcome to save this particular date.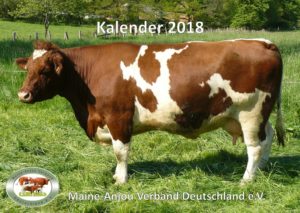 Furthermore, it is possible to purchase calendars for 2018 from the association (info@maine-anjou.de) for 15 Euros plus shipping fees.
Hans-Volkert Otzen
1st Chairperson of the Maine-Anjou Verband Deutschland e.V.